This newsletter was conceived in a different frame of mind, one in which I was thinking about how to keep opining about home, architecture, and design without a massive editorial platform. I still believe there is room on the internet for discussion of these things, both intellectual and entertaining, but a significant part of my brain is currently tuned in to supporting Black Lives Matter, equitable urbanism, BIPOC-owned businesses, mutual aid, public schools, and investment in community services. So for now, I'll be doing less of the home content part, and more sharing of worthy projects led by others—as well as some reading that frames what will hopefully be a permanent shift in society.
THIS WEEK IN TABS
I can't stop wondering about the way textbooks are written and thus, what selective pieces of history we learn as children. Earlier this year, the Times did a fascinating side-by-side analysis of fifth- and eighth-grade textbooks taught to students in Texas and California, revealing an unnecessarily complex system of politically-appointed review panels… well, you can guess how that plays out.

@hoodmidcenturymodern has quickly become one of my favorite design Instagrams: Jerald Cooper, the creator, has an eye for oft-overlooked midcentury-modern detailing and a way of contextualizing the style that feels completely new. Follow first, then read this interview with Coop on PIN-UP.
⠀
🔥🔥Mo Modern Mondays🔥🔥 This week we are introducing to some and repositioning to others— "Bauhaus Architecture". Bauhaus has this thing, when you hear the name - shit sounds like a movement haha . Walter Gropius from Germany had this vision of creating a "Gesamtkunstwerk" (total body of art)! Walt fucked around and created an historic ass movement - a JAY Z or Henry Ford, to the Modern art, design and archectuire world. He was doing this all while the Nazi's were hating - something they do really well of course. ⠀
⠀
Typology⠀
Craftsmanship ⠀
Perspective ⠀
Culture Influence ⠀
The study of Aesthetic ⠀
No fuckin snobbery⠀
Radical functionalist⠀
A language ⠀
A verb ⠀
⠀
All thoughts that come to my head when thinking about Bauhaus. ⠀
⠀
In the southwest city of Ife, an ancient Yoruba city sits University of Ife (now named Obafemi Awolowoin University) there sits a insane Bauhaus campus designed by the architect, Arieh Sharon. Of course Arieh pulled from classic Yoruba design but to see that mixed w Bauhaus is some rare shit for my eyes. ⠀
⠀
If you get a free moment - plz look into the Bauhaus movement - its some inspiring shit and it just happens to be all around us. ⠀
⠀
Of course , peep the link in the bio! Shouts Shane, Grace and SK.
JUST CAUSE
You, like me, might be wondering how we effectively address the pipeline problem in architecture. (Data point: Black architects represent only 2% of those who completed NCARB certifications in 2019.) You might consider supporting a hands-on design/build program for young people from diverse backgrounds. An architect friend in the Bay Area volunteers with Girls Garage, one such nonprofit geared toward teaching teen girls skills in carpentry, welding, architecture, engineering, and activist art. Said friend's birthday was this week and she asked for donations. Contribute here!
RABBITHOLE:
It's nearly the summer solstice and I've been obsessively googling… fireplaces. Hearths. Mantels. Wrought iron tools. Flues. Chimney shrouds. Perhaps there's a metaphor in there (the desire to zone the hell out to a primordial source of heat and light) but more likely than not I just realized my saved image folder was feeling thematic. Starting from the top:
Wright online auctions are like my sports: I like to go through the lots and then bombard my pals with interesting pieces, like this brassy Warren Platner number from a recent design sale. (Listen, I can't vouch for the complete Platner house from which this log holder derives, but if you're into side-eyeing 1980s suburban excess, check it out.)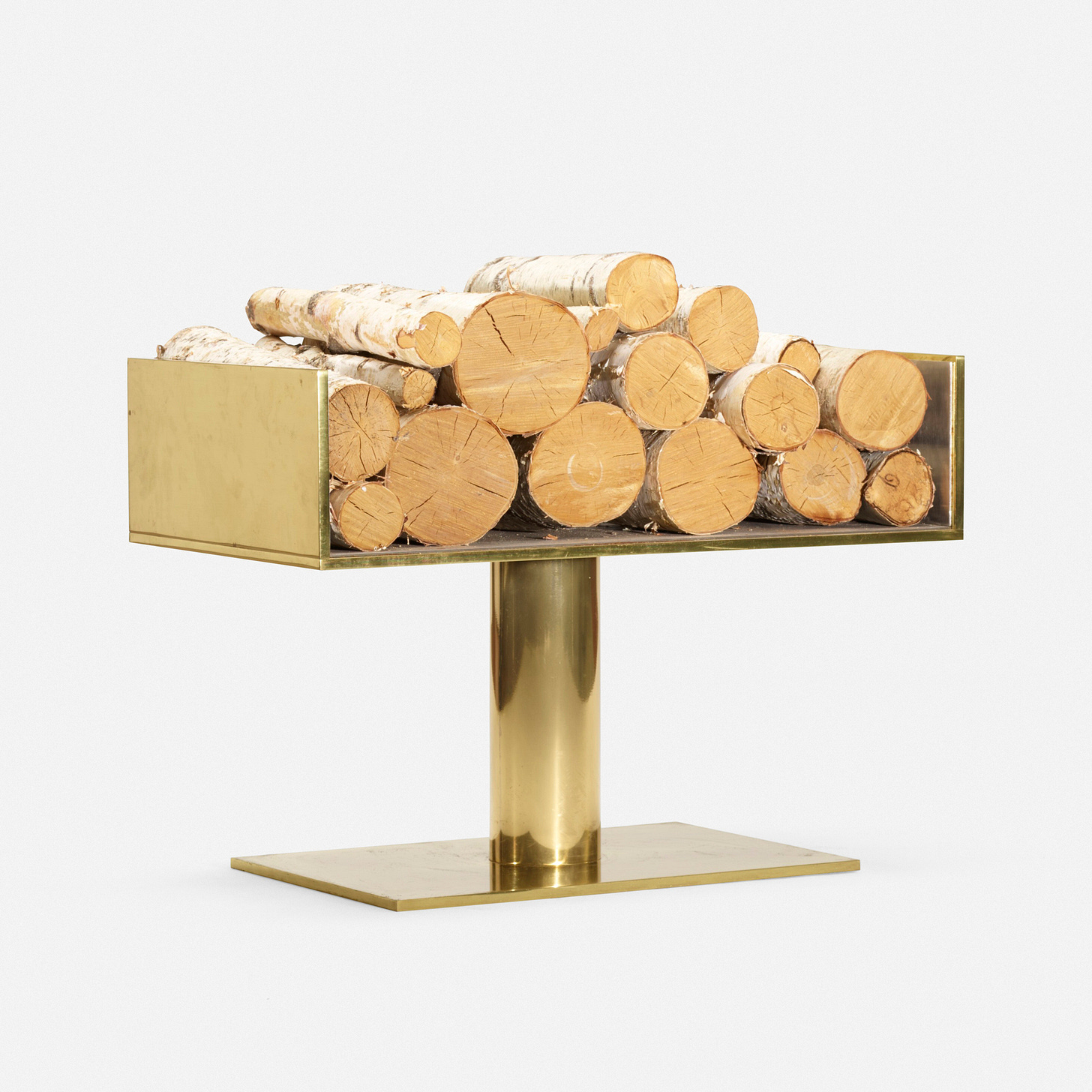 A few other fireplace accoutrements hit my radar around the same time: One, a now-rare andiron designed by Mel Bogart (I assume it's rare since this antique dealer wants $4,600 for one.) I spied it in Esoteric Survey's, ah, survey of midcentury houses in the East Bay:
Here's another midcentury "firebasket", this one from the office of George Nelson (below, at left) that Herman Miller archivist Amy Auscherman tells me was designed by Irving Harper. Please consider my humble request for an immediate reissue:
As for fireplace accessories, I'm partial to the circa-1960 tool set by Pilgrim (above right) which you can occasionally find on Etsy or Ebay. The aforementioned Mel Bogart also designed fireplace accessories that were included in MoMA's seminal Good Design exhibition, and you can still buy the George Nelson-designed set o'tools today.
Simultaneously I've been researching a bunch of eye-popping houses, mostly of the midcentury variety, in the Bay Area. We're with family in Berkeley for the summer, and I stumbled upon Greenwood Common—a residential enclave with landscaped green space designed by Lawrence Halprin in the 1950s—on a neighborhood walk. I bought a book that details the eight houses in the mini-development; UC Berkeley has a bunch of that same info archived online. Anyway: the Schaaf House, designed by regional architect Robert Klemmodson in '57, includes a nifty fireplace surround (above left) that extends through the glass curtain wall into the garden. Another deep cut is a fella named Jack Hillmer, who was invited to teach at UC Berkeley by none other than Charles Moore and designed only ten houses, most of them of the funky wood-forward variety. His Wright house from 1962 is arranged in a hexagonal plan, which is evident through the whopper of a concrete chimney column smack in the core (above right).
And one more concrete fireplace, courtesy of Anshen & Allen (above). This one because I was just ogling what is perhaps the firm's best known building in Berkeley: the Lawrence Hall of Science, which looks like a cross between a shoebill beak and a desert outpost in a distant galaxy.
Keep fighting, practicing, educating, and absorbing,
Kelsey
This week's newsletter title is taken from Entropia (review), 2016, by Julie Mehretu.