Ground Condition #9
Table talk
Hello, and welcome to a small corner of the internet that is zero percent related to the news cycle. This week's installment is evergreen, so if you don't *want* to be distracted from major events looming in the next few days, bookmark it for later.
The backstory: I just moved into a house with a breakfast nook that includes built-in bench seating (not gonna lie, it's charming af). Guess what won't work with built-in bench seating?? A regular old table with regular old legs!! Enter the pedestal.
Shopping for: Pedestal Tables
I started my search for solo-legged tables by looking for skinny bases with round, floating tops, a silhouette pioneered by Eero Saarinen back in the 1950s with his Tulip series for Knoll.
It's not hyperbole to say that every single retailer sells a basic version of the Saarinen table: white top, white base atop a single attenuated leg, smooth finish, a silhouette that aims for sleek. (This last bit is why something attempting Saarinen doesn't trip your serotonin in the same way. It's usually a little too chunky, or proportionally mismatched.) These four iterations aren't direct copies, but they do speak a similar vocabulary: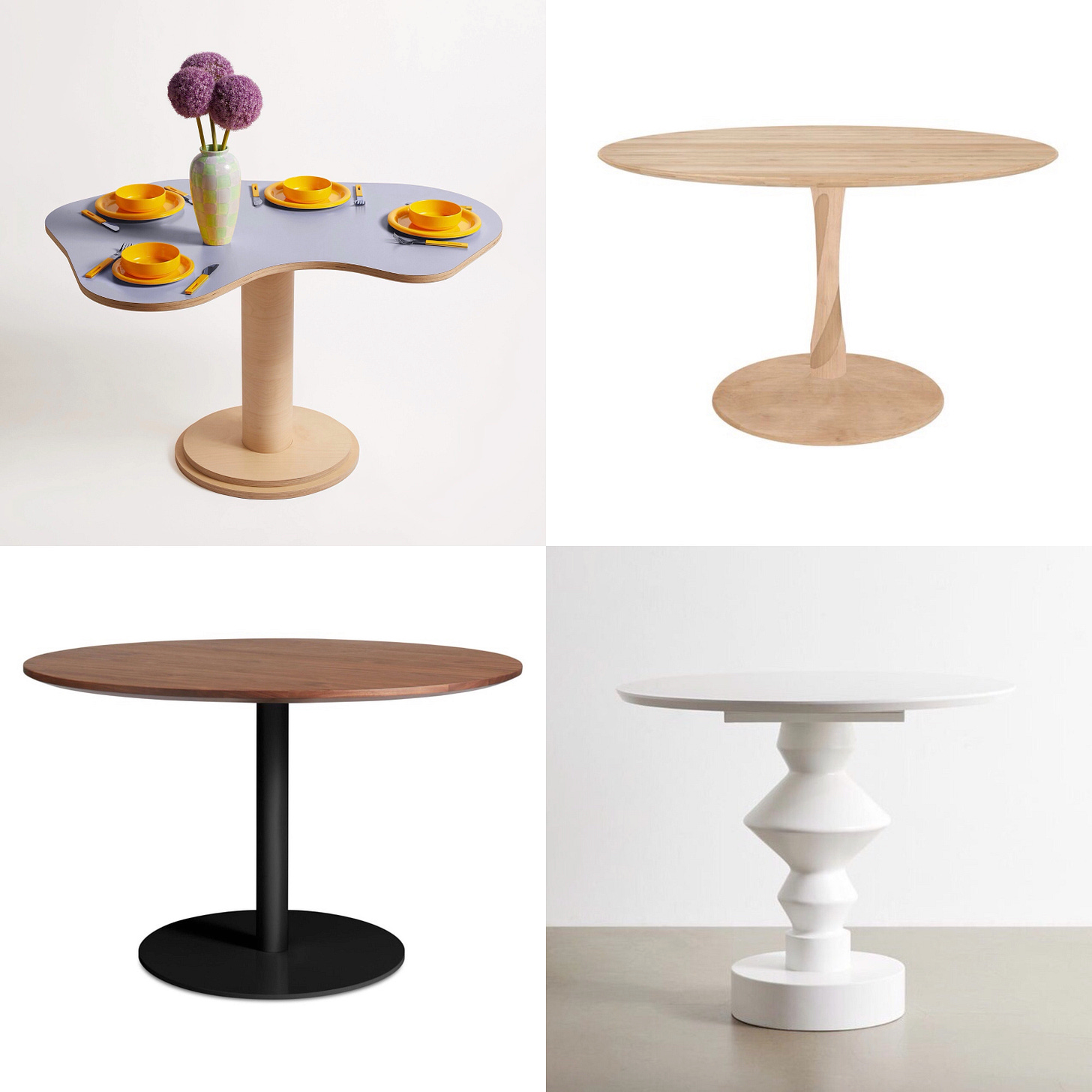 Clockwise from top left:
50-inch dining table
, $980 at Wiggle Room.
Oak torsion dining table
, $1,329 at Burke Decor.
Vera pedestal dining table
, $379 at Urban Outfitters (out of stock by the time I'm sending this… sorry, didn't have time to find an alternate).
Easy 48-inch table
, $1,279 at Blu Dot.
If you expand the parameters, you'll find a lot more options with a single center base, even if it's not the standard Saarinen-esque profile. Think chunky drum base, riffs on the tube, or something altogether blockier: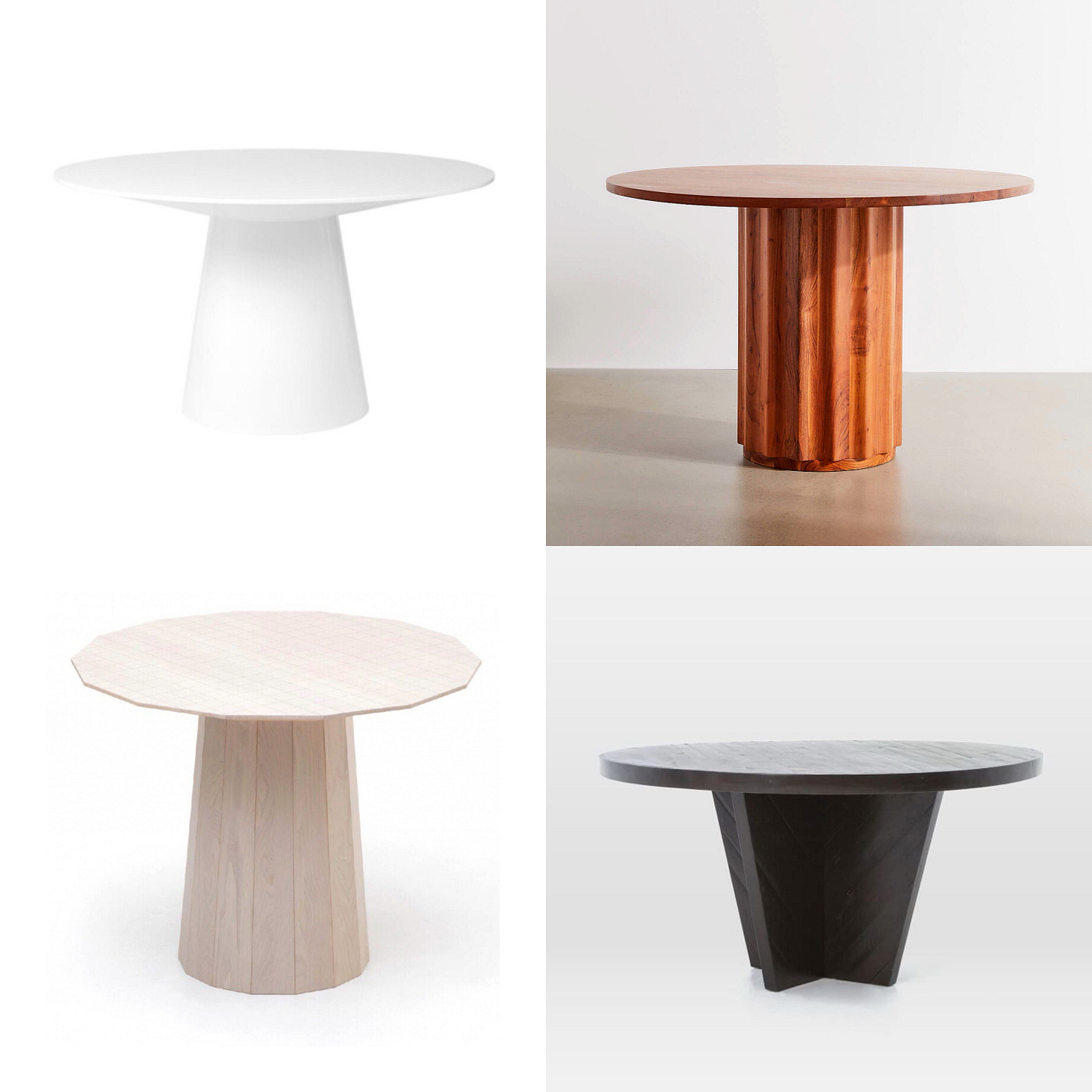 Table Talk: The Mighty Pedestal
The original Saarinen is a classic, and you might be a classic kind of person. To get the nitty-gritty on making this ~investment purchase~, I beelined to Alex Gilbert, all-around design connoisseur and associate director at Friedman Benda. Alex was a VP at Sotheby's, led the design division at Artsy, and has worked with Surface mag, Craft Council, and Phillips—plus she's partners in life with Patrick Parrish, he of gallery and design history rabbithole MONDOBLOGO. Alex did not fail to drop some real insider knowledge—read on below.
I've decided the OG is the one for me! Where do I start?
"Knoll is the best place to look for all the permutations. First off, decide on which size, shape, and material you're looking for. It's easy to get distracted by something that's a good price but won't fit your space or seat the right number of people. (Sizes range from a 35-inch round top that seats 3-4, to a 96-inch oval which fits 8.) Tops come in a variety of materials: wood, laminate, and marble—all with a tapered edge. The base is made from a single piece of heavy cast aluminum painted in black, white, or gray."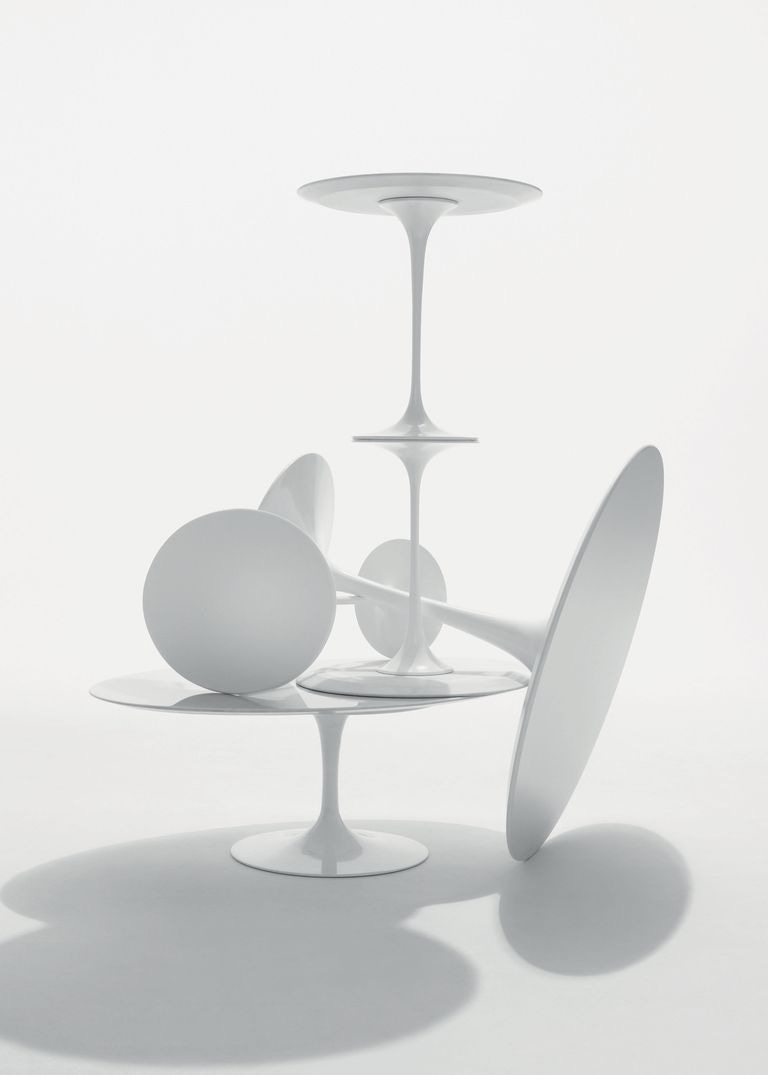 What's the best way to find a deal?
"If you're going the vintage route, here's the order in which I'd search online: Facebook Marketplace, Craigslist, Sotheby's Home, and then 1stDibs—which will have the fewest condition issues but the highest prices. [Editor's note: I save specific searches on Chairish and LiveAuctioneers, as well.] Keep in mind that the list price is the asking price, and you should feel welcome to negotiate. And all of these sites allow you to search locally to keep shipping costs to a minimum."
Does Knoll furniture ever go on sale?
"If you would prefer a new table or can't find the exact model you want on the secondary market, don't wait for a sale at Design Within Reach or Knoll. In my experience, their sales associates can most likely extend 15% off year-round if you respectfully inquire about the date of the next sale that might apply to your piece. If you're angling for a heftier discount (up to 30%), DWR has a few outlets scattered throughout the country, including one in Brooklyn. Contact each store directly to see what showroom samples or returned custom orders they currently have on the floor. They get a continuous stream of these, so you don't need to make a snap decision if you're still saving your moolah or making up your mind."
Does it matter if something I find on Ebay or Craigslist is the genuine article?
"There are plenty of Eero Saarinen Pedestal (often called Tulip) derivatives on Ebay, but they are usually described with the word "style." It would be uncommon for someone to be selling one and not know what they have. Both vintage and new production examples are labeled (paper labels from back in the day and a little metal plaques for newer production). Occasionally the paper labels have fallen off of older pieces, so examine the underside: no screws connecting the top to the base should be visible." [Editor's note: More tips here for assessing the authenticity of a Knoll Saarinen table. An especially prevalent riff is by Maurice Burke for UK manufacturer Arkana.]
Is there any difference between a newly made Saarinen table and a vintage one?
"The construction and sizes have largely remained the same, to the best of my knowledge, while the material choices have expanded over time. Knoll does accept custom orders, so sometimes you'll run across a unicorn like a yellow-leather-topped 96" oval table!"
What material has the best resale value?
"Marble. Arabescato, the white marble with greater figuration than Carrera, is most likely the easiest to sell for the highest price. Some of the rare colored marbles or black granite might go for a bit more, but they are also harder to offload. Keep in mind, condition issues such as chips will impact the resale value greatly."
And what's the best way to sell it myself if it doesn't work out?
"If your table is in great to 'like new' condition, Sotheby's Home is a great place to resell it. The listings aren't so saturated and the good stuff sells quickly."
Is it ever OK to buy a knock-off?
"It is never OK to buy a knock-off if you wish for it to age gracefully and retain 50 to 85% of its value."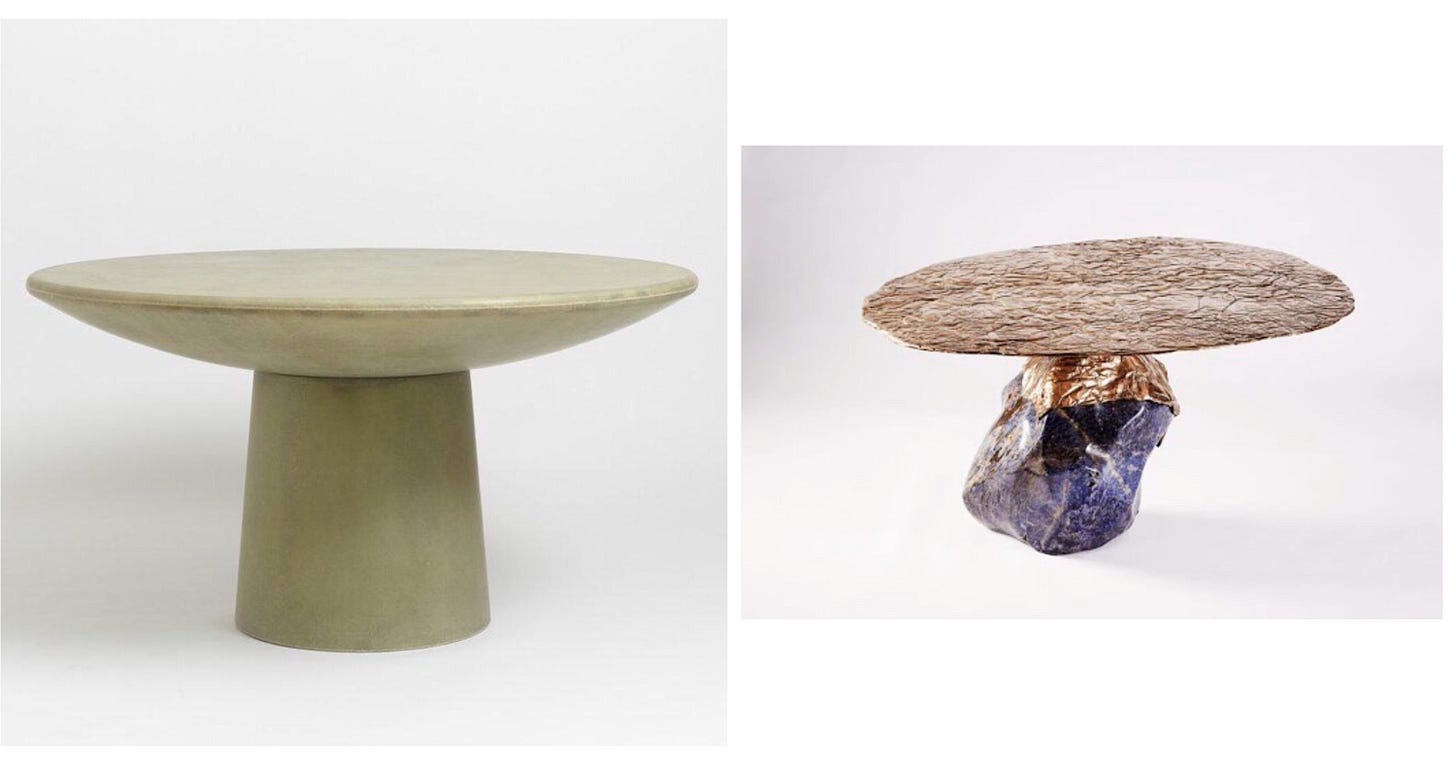 What if I want a more adventurous pedestal table?
"Faye Toogood's Roly-Poly fiberglass dining table [above, left] is a nice alternative. If you're more of a trendsetter, Misha Kahn has a series of bronze tables [above, right] that are set atop various stones: jasper, sodalite, unakite, greenstone, rose quartz—a sort of inversion of Saarinen's concept."
Thank you, Alex; you rule! For more fun, I highly suggest Friedman Benda's virtual Design in Dialogue series, which Alex has been curating since lockdown started in April.
This Month in Tabs
Aside from mail-in voting, phone banking, donating, gnashing my teeth over the travesty that is the Supreme Court, raging on the Gal Pals group text, and furiously emailing senators… I did manage to consume a few design-y things in October.
Take care out there,
Kelsey